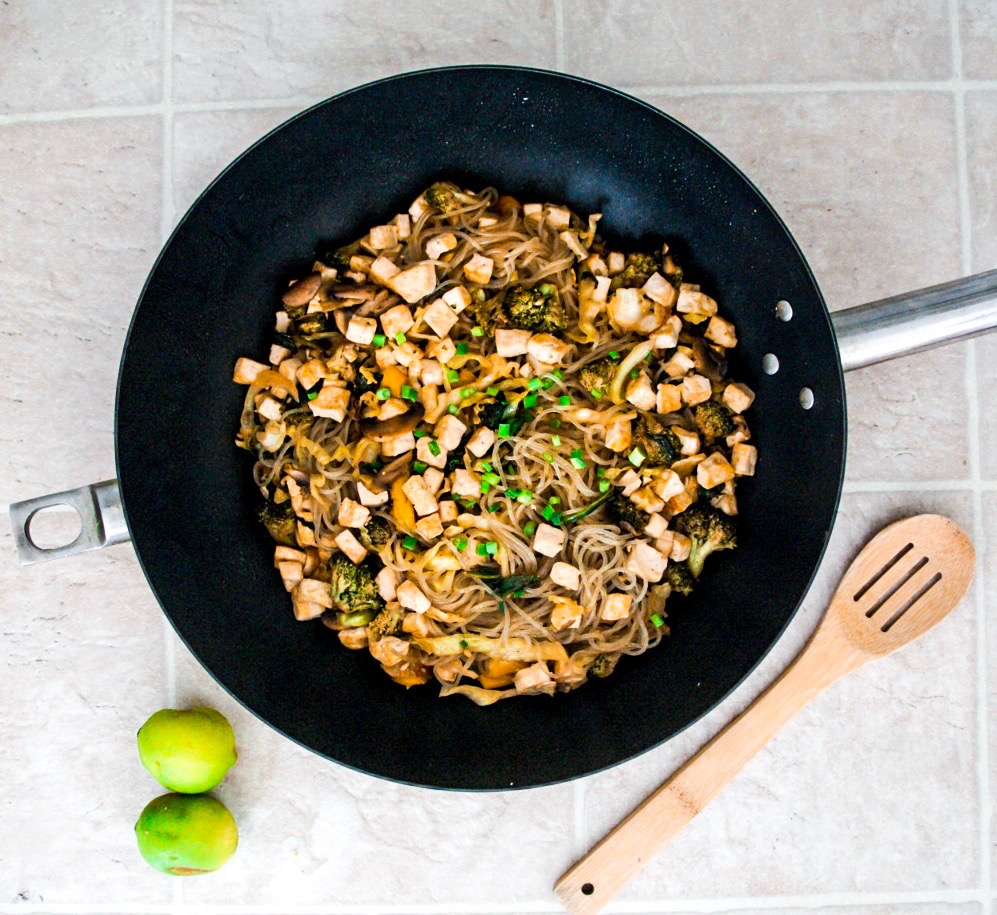 Crispy Curry Tofu Stir-Fry with Broccoli and Rice Noodles
This week I was craving a chinese takeout-style stir fry with rice noodles, but I always have these puffy eyes from the MSG… So I invented this delicious and easy Crispy Curry Tofu Stir-Fry with Broccoli and Rice Noodles. Curry based sauce gives another dimension to the dish. Even my almost 3-year-old loved it!
In my recipe I used the soy sauce without the MSG and mixed it with coconut aminos. It's soy-, wheat- and gluten-free, making it a healthier alternative to soy sauce for those with certain allergies or food sensitivities. And, the most importantly, if you're trying to reduce sodium in your diet, coconut aminos may be a good lower-salt substitute for soy sauce. It has 90 mg of sodium per teaspoon (5 ml), while traditional soy sauce contains about 280 mg of sodium in the same serving size.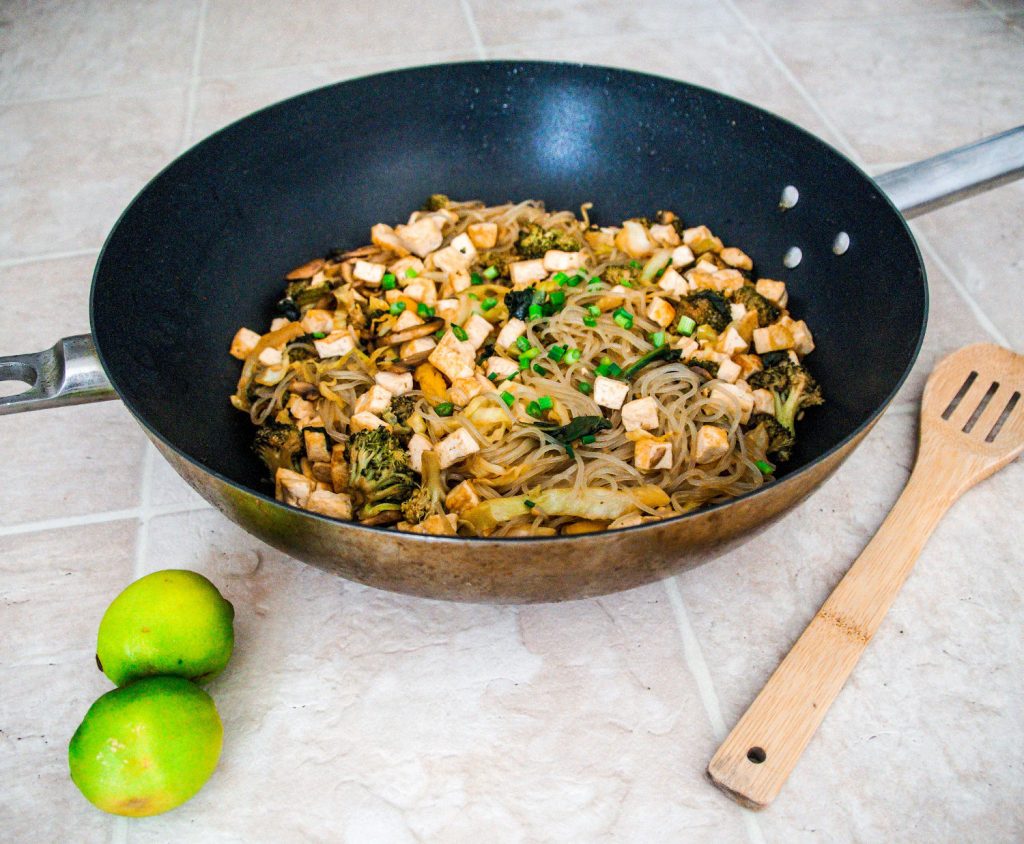 This simple 30 minute lunch or dinner uses quick cooking rice noodles, but you can use any type of Asian noodles.
I used broccoli best in this Crispy Curry Tofu Stir-Fry with Broccoli and Rice Noodles, but any mixture of vegetables you have on hand will work too.
Bon Appetit!
---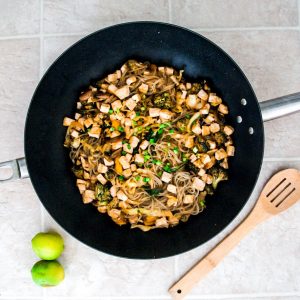 Print Recipe
Crispy Tofu Stir-Fry with Broccoli and Rice Noodles
This easy Asian-style dish is ready in 30 minutes. It makes a healthy gluten free and vegan meal, and tastes so good!
Ingredients
14

oz

firm or extra firm tofu

2

tbsp

cornstarch

3

tbsp

olive oil

8

oz

rice vermicelli or rice sticks

2

cloves

garlic

1

tbsp

grated fresh ginger

2

green onions, divided

3

cups

vegetables (broccoli, shredded cabbage, carrots)
Stir Fry Sauce
1/4

cup

chicken or vegetable stock

1/4

cup

soy sauce

1/4

cup

coconut aminos

1

tbsp

toasted sesame oil

1

tbsp

rice vinegar

2

tsp

curry powder

1

tbsp

sriracha (optional)
Instructions
Remove the tofu from the package and wrap it in a clean, lint-free towel, or paper towels. Place the wrapped tofu between two cutting boards or plates and press to extract the excess moisture.

Once the tofu has pressed, cut it into small cubes (3/4 to 1-inch). Place the cubes in a bowl and season with a pinch of salt. Sprinkle the cornstarch over top and gently toss until the cubes are coated.

Prepare the stir fry sauce. In a small bowl, stir together the stock, soy sauce, coconut aminos, sesame oil, rice vinegar, sriracha (optional) and curry powder. Set the sauce aside.


Place the noodles in a casserole dish or large bowl and pour boiling water over top. Let the noodles soak for about 5 minutes, or until soft. Drain the noodles in a colander and set them aside until needed.


Heat a large skillet over medium heat. Once hot, add one to 1.5 Tbsp cooking oil and tilt the skillet to distribute it over the surface. Add the cornstarch coated tofu cubes and cook until golden brown and crispy on all sides. Remove the tofu from the skillet.


While the tofu is cooking, mince the garlic and grate the ginger. Slice the green onions, separating the white ends from the green ends.


After removing the tofu from the skillet, add a bit more cooking oil along with the ginger, garlic, and the white ends of the sliced green onions. Sauté for about one minute, or just until they begin to soften.


Add the veggies and continue to sauté for about 3 minutes more.

Add the drained rice noodles, prepared sauce, and fried tofu cubes back to the skillet. Carefully stir and toss the contents of the skillet until everything is combined and coated with sauce. Turn off the heat and sprinkle the green ends of the green onions over top.
You May Also Like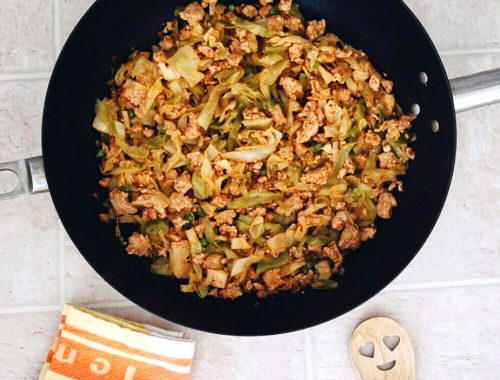 March 11, 2019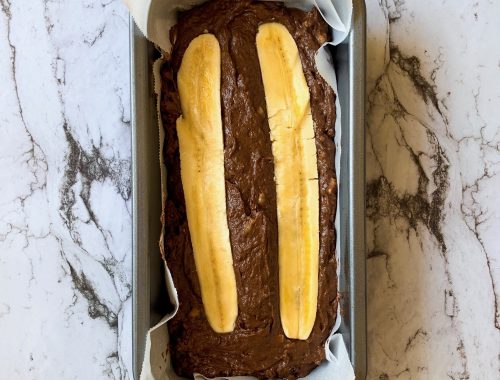 July 16, 2019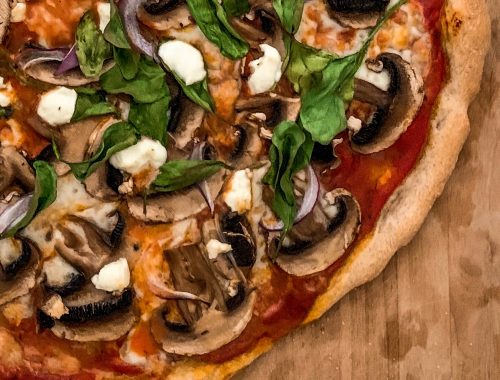 April 9, 2019