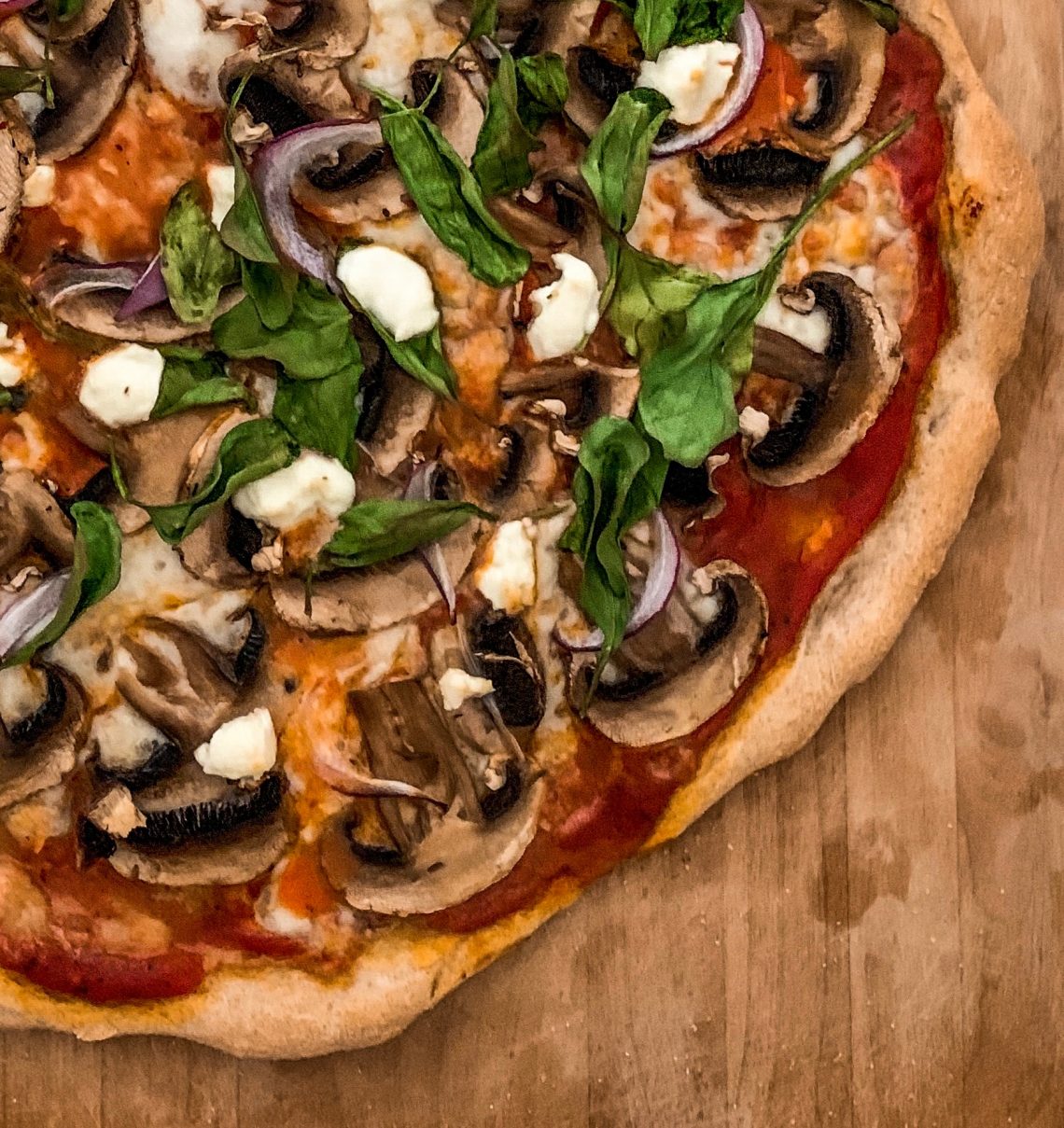 Easy Whole Wheat Pizza Crust
Every great pizza begins with a great pizza crust. Some like it thin and crisp, while others prefer thick and soft pizza crust. This homemade Easy Whole Wheat Pizza Crust has it all: soft & chewy with a delicious crisp and flavor.
There are as many pizza crust recipes as there are starts in the sky. The healthy ones are my favorites, that is why I decided to share with you the recipe with a whole wheat flour. It contains more fiber than regular all-purpose or bread flour, but whole wheat pizza crust has a bad reputation. If done wrong, it's often too dense, too tough and simply tasteless. I tested few recipes and it turned out that mix of whole wheat flour with a bread flour has best texture and taste. And you can't go wrong with it!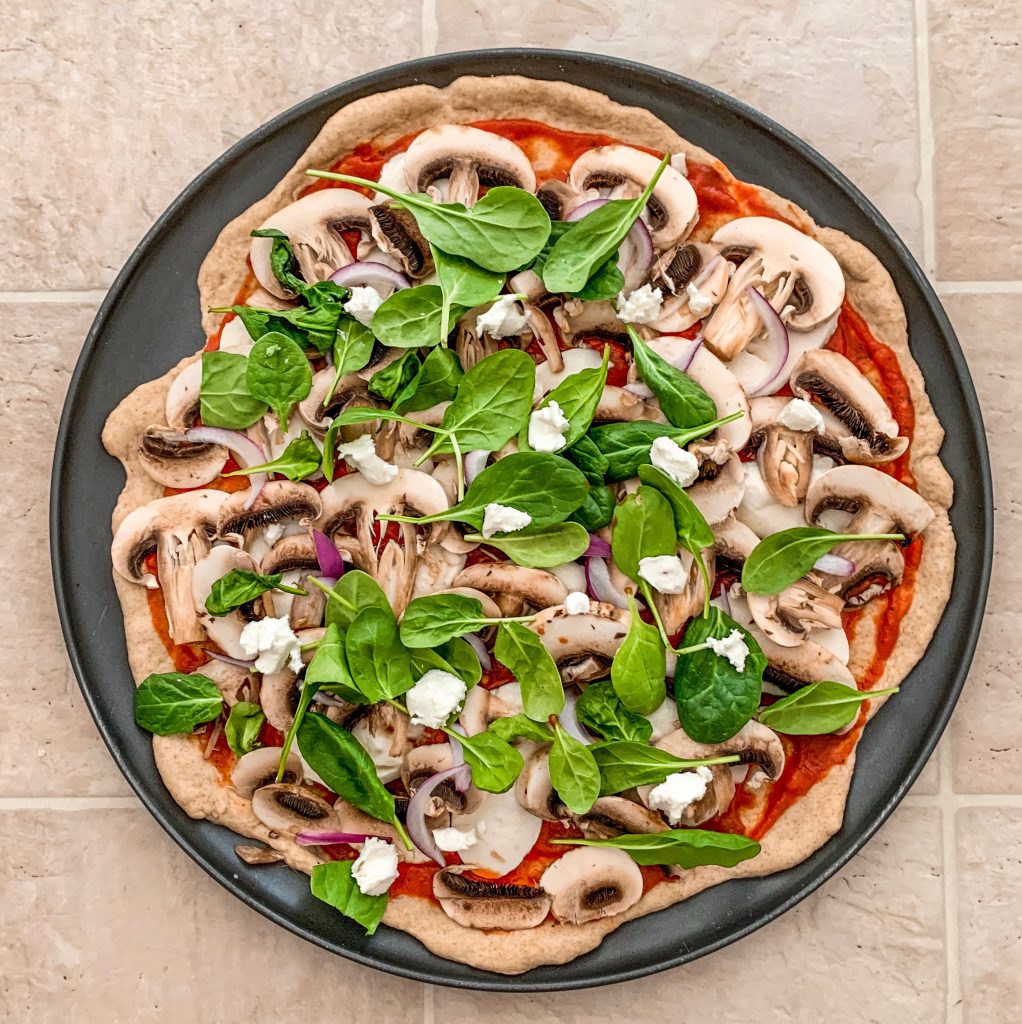 When the dough is ready, just top it with your favorite toppings. My to go pizza toppings are: tomato sauce, fresh mozzarella, mushrooms, red onions, red pepper, goat cheese and spinach.
Pizza full of proteins and veggies on top makes a great dinner and is my ABSOLUTE favorite food for entertaining guests. You simply can't be uptight with pizza on the menu, right?
How to freeze pizza dough
After the pizza dough rises and you divide the dough in half, you can freeze one of the balls of dough to make pizza at a later time. Lightly coat all sides of the dough ball with nonstick spray or olive oil. Place the dough ball into individual zipped-top bag and seal tightly squeezing out all the air. You can also use a plastic wrap. Freeze for up to 3 months.
How to thaw frozen pizza dough
Place the frozen pizza dough in the refrigerator for about 8 hours or overnight. When you are ready to make pizza, remove the dough from the refrigerator and allow to rest for 30 minutes on the counter. Continue with step 7 in the recipe below.
---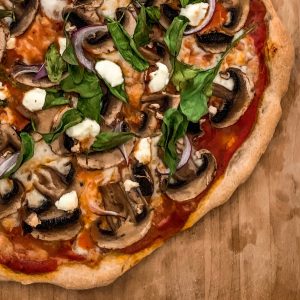 Print Recipe
Easy Whole Wheat Pizza Crust
A healthy whole wheat crust that comes out soft and chewy on the inside and crisp on the outside.
Ingredients
1 1/3

cup

warm water

1/4

cup

olive oil

1

tsp

salt

2

cups

bread flour

1 1/2

cup

whole wheat flour

1 1/2

tsp

instant yeast
Instructions
In a large bowl, dissolve sugar in warm water. Sprinkle yeast over the top, and let stand for about 10 minutes, until foamy.

Stir the olive oil and salt into the yeast mixture.

Add bread flour and whole wheat flour and mix with the dough hook on low speed or with a large rubber spatula until dough starts to come together.

Once mixed, knead for minimum 5 minutes by hand on a lightly floured surface or with your dough hook on low-medium speed.

Place dough in an oiled bowl, and turn to coat the surface. Cover loosely with a towel, and let stand in a warm place until doubled in size, about 1 hour.

When the dough is doubled, tip the dough out onto a lightly floured surface, divide into 2 pieces, cover each piece with a mixing bowl or a towel and let it rest for 10 minutes. You may freeze one of the dough balls at this point to use at a later time.

Preheat the oven to 425 degrees F (220 degrees C). Roll a ball of dough with a rolling pin until it will not stretch any further. Then, drape it over both of your fists, and gently pull the edges outward, while rotating the crust. When the circle has reached the desired size, place on a well oiled and sprinkled with corn meal pizza pan.


Top pizza with your favorite toppings, such as sauce, cheese, meats, or vegetables. My favorite set is: tomato sauce, fresh mozzarella, mushrooms, red onions, red pepper, goat cheese and spinach.

Bake for 16 to 20 minutes (depending on thickness) in the preheated oven, until the crust is crisp and golden at the edges, and cheese is melted on the top.
You May Also Like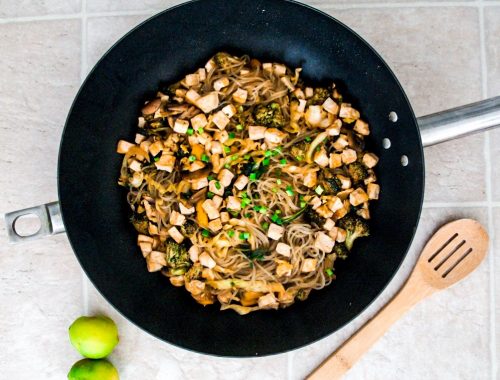 April 14, 2019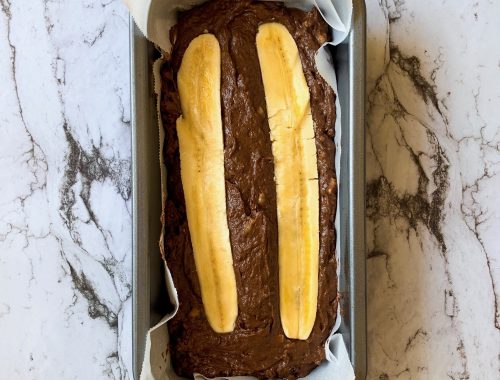 July 16, 2019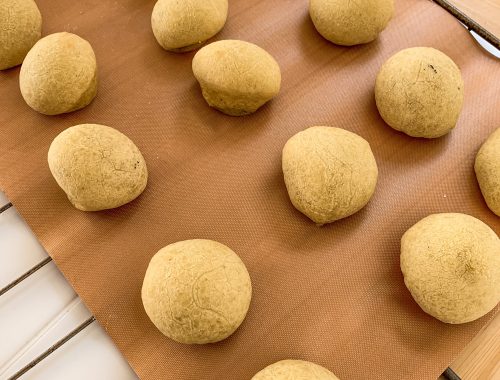 June 28, 2019