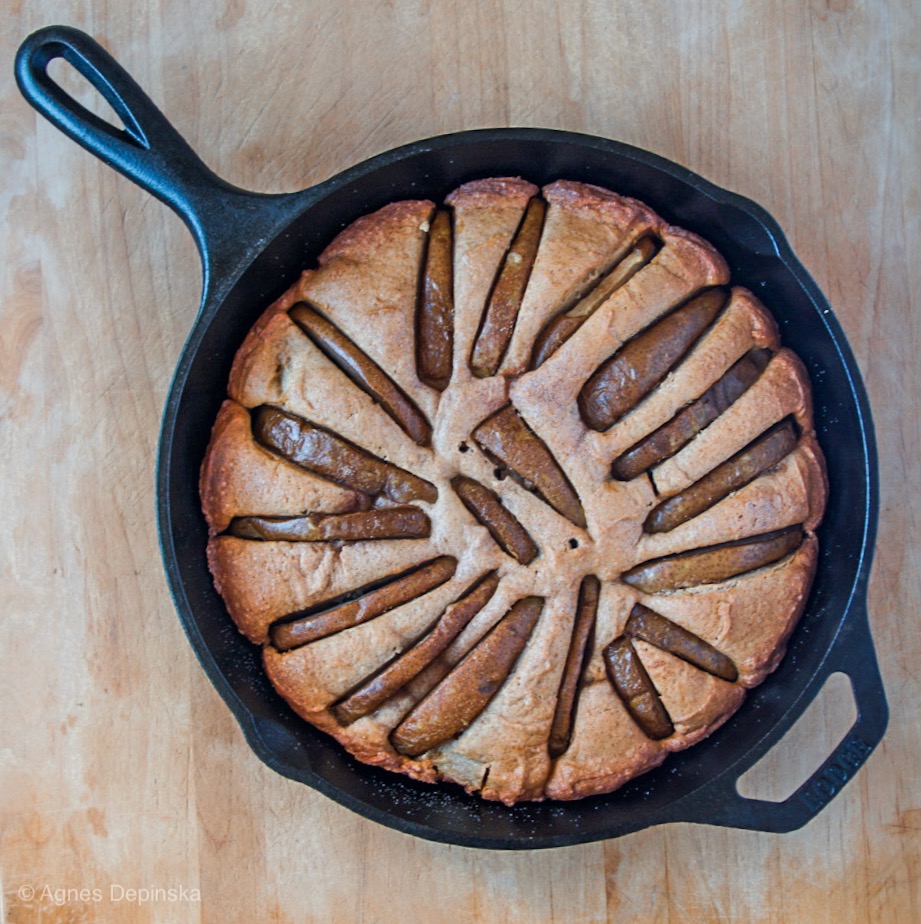 Whole-Wheat Skillet Pear Ginger Cake
My refrigerator drawer is full of pears for juicing. I always mix pears with celery stalks for the perfect taste. So, as they had been staring me in the eye for a few days, I decided to use them to bake a skillet pear ginger cake for my guests the other day.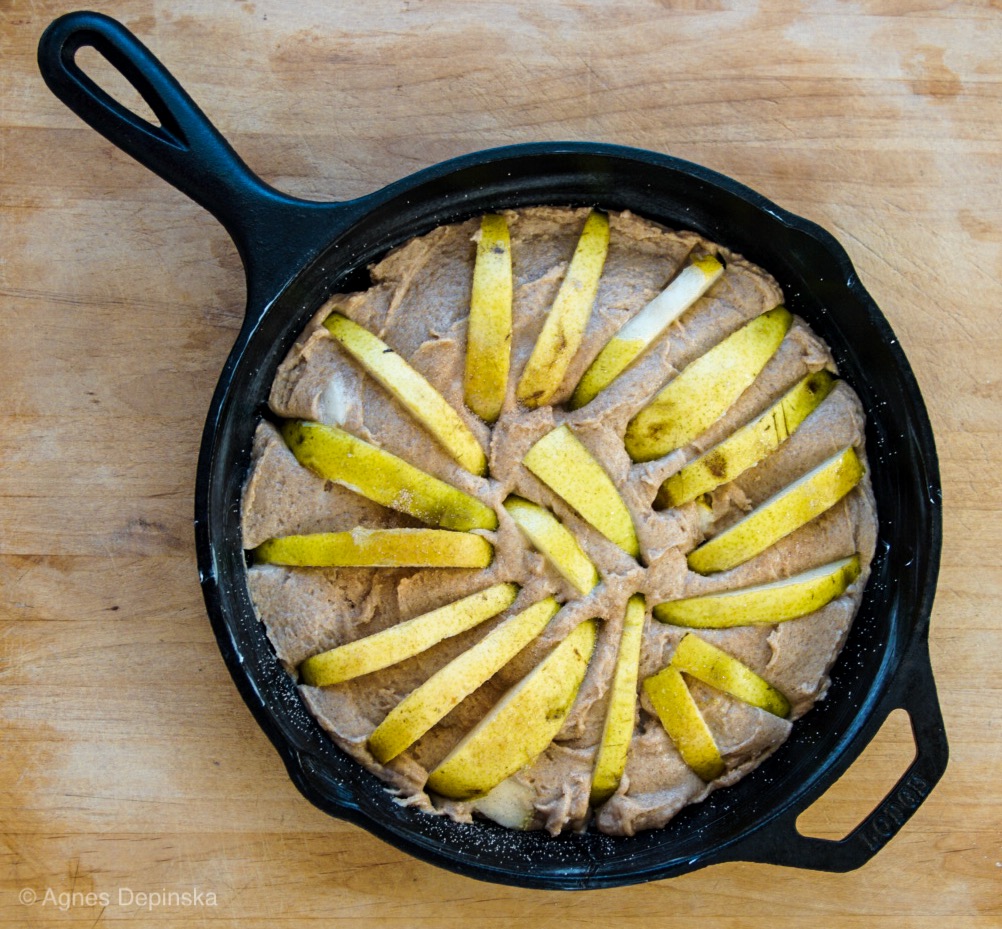 Because who needs a cake pan when you can use a cast iron skillet?
People don't think much about using a skillet for baking. My love for skillets is relatively new. Before, I used a skilled just for grilling and frying. Recently, I realized that it's one of the most versatile kitchen tools I have ever had and it's perfect for baking! A skillet gets very hot during baking and because of its higher sides you will get those beautifully caramelized edges and delicious crispiness.
Just remember to regularly season your cast-iron skillet (to avoid the rust and keep it non-stick) and hand wash it.
Coming back to the skillet pear ginger cake recipe, it turned out great. It's so easy to make! The baking time is longer than usual as we bake it at a lower temperature but to get that perfect crispiness it's really worth it. Like always, I sneaked in healthy ingredients: whole-wheat flour, fresh ginger and yogurt. I served it with almond whipped cream on the side <3.
It's perfect for breakfast or as a snack, both for your older ones and younger ones. Bon appetit!
---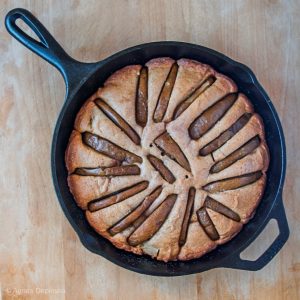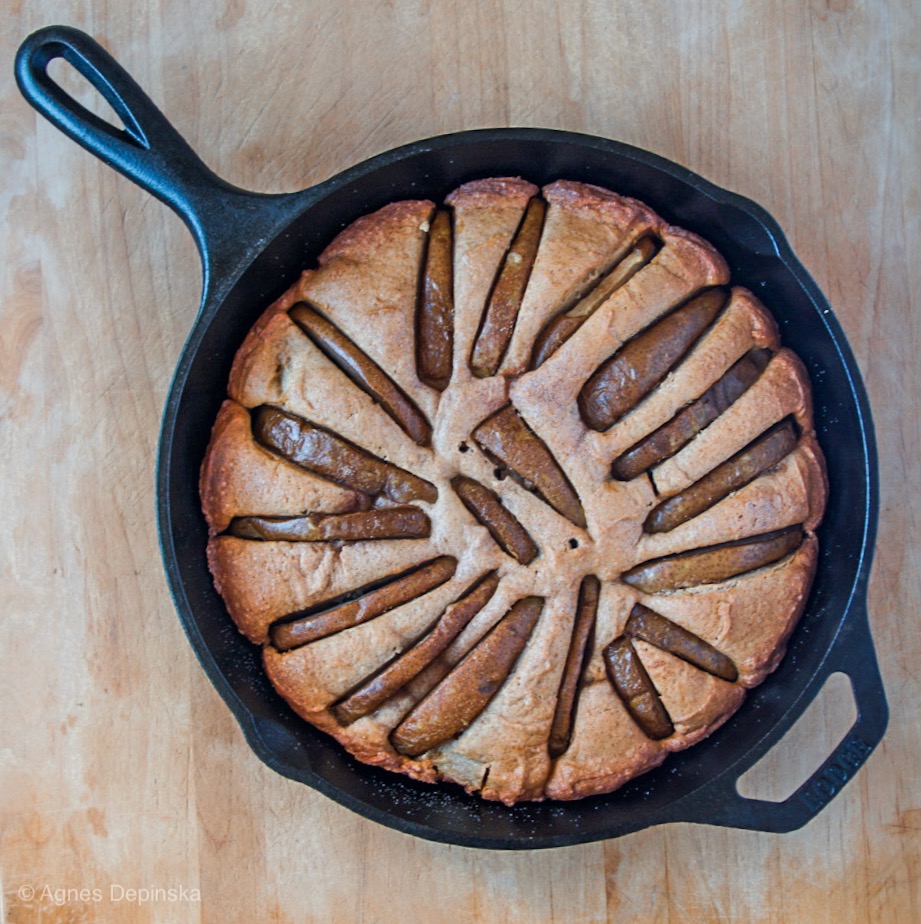 Print Recipe
Skillet Pear Ginger Cake
Easy recipe for melt-in-your mouth texture cake bursting with spices and fat chunks of tender pears.
Ingredients
3/4

cup

unsalted butter, softened

1/2

cup

brown sugar

1/2

cup

granulated sugar

2

large eggs, at room temperature

1

tsp

almond extract

1 1/2

cup

all-purpose flour

1/2

cup

whole-wheat flour

1

tsp

baking powder

3/4

tsp

salt

1/2

cup

plain whole-milk yogurt

1

tbsp

finely grated fresh ginger

1

pound

pears, diced

1

tsp

ground ginger

1

tsp

cinnamon

1/2

tsp

ground allspice
Spiced sugar:
2

tbsp

granulated sugar

1/2

tsp

ground ginger

1/2

tsp

cinnamon
Instructions
Preheat the oven to 330°F, with a rack in the middle. Oil a 10- or 11-inch cast-iron skillet.

To make the cake, stir together the flour, ground ginger, salt, cinnamon and allspice in a bowl. Set aside.

In a large bowl, beat butter and both sugars with a mixer at medium speed until fluffy, 3 to 4 minutes, stopping to scrape sides of bowl. Add eggs, one at a time, beating well after each addition. Beat in almond extract and fresh ginger.

With mixer on low speed, gradually add flour mixture to butter mixture alternately with yogurt, beginning and ending with flour mixture, beating just until combined after each addition.

Fold in half of pears (this part cut in cubes). Spoon batter into prepared skillet, spreading to edges. Arrange remaining pears on top, slightly pressing into batter. Sprinkle with spiced sugar.

Bake until a wooden pick inserted in center comes out clean, about 50 minutes. Transfer the skillet to the stove top to cool for at least 20 minutes.

Serve warm or at room temperature, cut into wedges. Refrigerate leftover cake, tightly covered, for up to 4 days, or freeze, tightly wrapped, for up to 2 months. Bring to room temperature before serving.
You May Also Like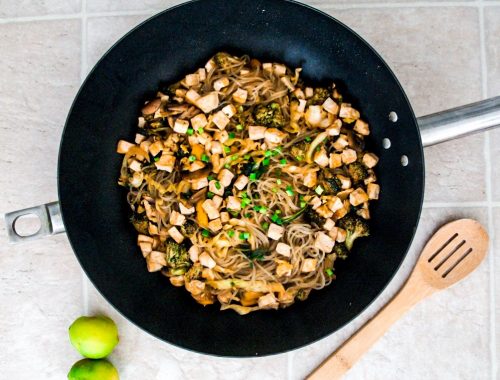 April 14, 2019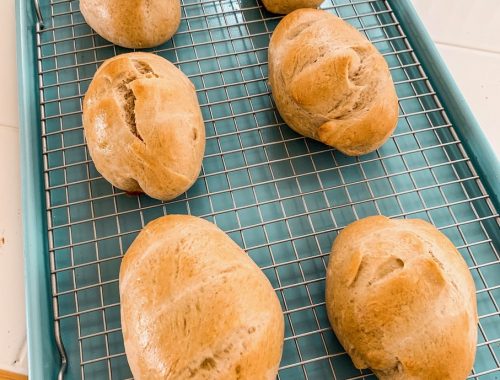 August 21, 2019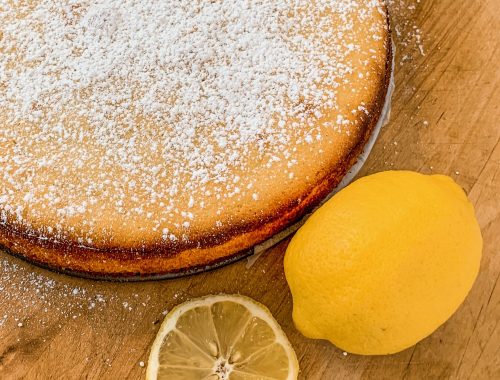 April 20, 2019